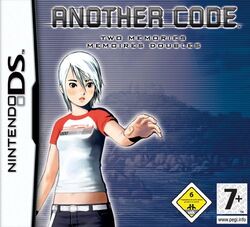 Another Code: Two Memories (アナザーコード 2つの記憶 Anazā Kōdo Futatsu no Kioku), released as Trace Memory in North America, is an adventure game developed by Cing and published by Nintendo for the Nintendo DS. It was relased in 2005 and is the first game of the Another Code series. The game centers on the 13-year-old Ashley Mizuki Robbins, who travels to Blood Edward Island and is in search for her father Richard Robbins and the truth behind the death of her mother Sayoko Robbins. The player takes control of Ashley and has to solve many puzzles that make use of the Nintendo DS hardware.
A sequel titled Another Code: R - A Journey into Lost Memories was released in 2009 for the Wii.
Characters
Edit
Implied characters
Edit
The player doesn't encounter the following characters in the game. They are only seen in flashbacks or on pictures. Most of them are members of the Edward family.