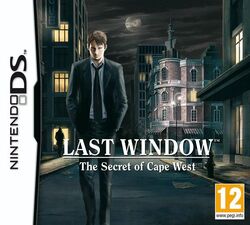 Last Window: The Secret of Cape West, released in Japan as Last Window: Mayonaka no Yakusoku (ラストウィンドウ 真夜中の約束?, lit. "Last Window: Midnight Promise"), is an adventure game developed by Cing and published by Nintendo for the Nintendo DS. It is a sequel to Hotel Dusk: Room 215 and was released in 2010. The game's story takes place one year after that of its predecessor. On 18th December 1980, Kyle Hyde learns from his boss, Ed Vincent, that he gets fired from Red Crown. Back at the Cape West Apartments, Kyle finds a mysterious letter instructing him to find an object called the Scarlet Star. Further investigations during the course of the game reveal more information on the murder at the former Hotel Cape West 13 years ago as well as why Kyle's father Chris Hyde was killed 25 years ago.
Last Window is the last game of developer Cing, which filed for bankruptcy in March 2010.
Characters
Edit
Implied characters
Edit
Tony Wolf's former manager
Sidney Reagan's ex-wife
Charles Jeunet's grandfather
Frank Raver's family
Charnay (French jeweller)
Ad blocker interference detected!
Wikia is a free-to-use site that makes money from advertising. We have a modified experience for viewers using ad blockers

Wikia is not accessible if you've made further modifications. Remove the custom ad blocker rule(s) and the page will load as expected.